Although sailing adventures are salty, they leave sweet and lasting memories forever kept in a swelling heart and an elated mind, so come to experience maritime bliss of the region! 
Whether you sail around pine-covered islets of the untouched bays or you decide to spend more time exploring jagged cliffs and rugged surfaces of the rocky islands, your sailing experience in the region will be utterly enjoyable and entirely rewarding. 
Set sail through the Zadar Channel, navigate your way across the Zadar Archipelago, circle around true gems of nature like the heart-shaped island of Galešnjak and meandering Telašćica Bay, visit sandy lagoons around Nin, discover heavenly coves of Pag Island and Long Island (Dugi Otok), linger in extraordinary spots like Sakarun Beach and the Queen's Beach, stop in the beautiful harbours of Zadar and Nin and by all means rest in the exceptional marinas of Biograd and Sukošan! Do you need any more reasons to leave everything and sail away this minute?
Located in the most indented part of the Adriatic Sea, an area with the largest number of islands and several national and nature parks, Biograd is the ideal starting point for all those who love sailing, especially between April and October.
The town has a long and proud maritime history and it is one of the most popular nautical spots in Northern Dalmatia offering excellent facilities of well-equipped marinas along with the cosiness and intimacy of little private bays and numerous opportunities to explore the stunning natural environment. No wonder it attracts many yachtsmen and boating enthusiasts who come for one of the 50 annual regattas. Sail away!
Imagine your dream beach. White sand, turquoise water and pine trees? Well, now you can also visit it. Sakarun Cove is a natural gem of the region, widely known and regularly listed among the most beautiful coves in the world! But there is another great beauty in the area.
Sakarun is a wide 800-metre-long sandy beach with a view of the open Adriatic Sea. It is located on the northwest coast of Dugi Otok (Long Island). This exceptional beach has gained a well-deserved reputation for its distinctively white sand, clear turquoise sea and thick rows of pine trees that provide a welcome shade on hot summer days. Sakarun is a spectacular place of beauty, peace and tranquillity suitable for everyone, as the calm shallow waters surrounding the beach offer safety and relaxation in an extraordinary setting of changing hues and colours.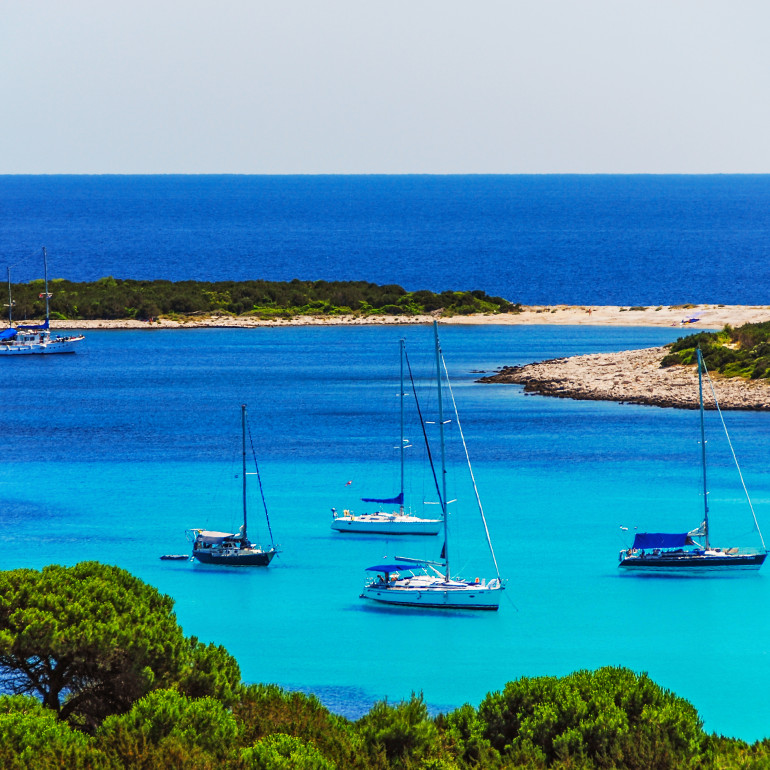 Telašćica is a wonderful bay and a designated nature park located on the south-east part of Dugi Otok (Long Island). This beautiful bay set in a harmonious environment includes 6 charming islets and is surrounded by 13 islands, all covered with lush vegetation of evergreen forests. Telašćica was proclaimed a nature park thanks to its rich flora and fauna, distinctive geomorphological phenomena, clear seabed teeming with marine life, as well as its interesting archaeological heritage. Choose your favourite spot among 25 small beaches, 161 m high cliffs, a salt lake with medicinal properties, picturesque and unusual islands and amazing viewpoints!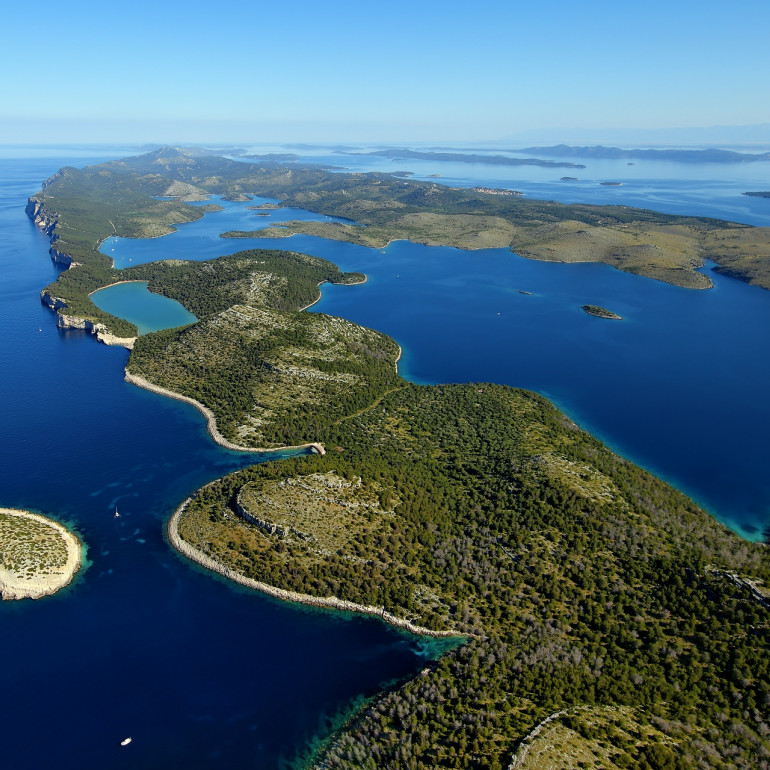 The Island of Galešnjak is known for its heart shape, but there are more reasons to fall in love with it. As most things related to love, discovering this island was also an accident. This tiny island of only 0.132 square kilometres of land was accidentally discovered during a Google Earth search. It instantly became a topic on TV channels such as CNN and BBC. The whole world found out about Galešnjak, the island with the most perfect heart shape in the world. You can plan your romantic trip also but note that it does not have any kind of man-made structures or accommodation facilities. In our opinion, that makes it even more romantic, don't you think? Enjoy romantic moments under the stars or swim along the clear pebble beaches surrounding the tiny island with your loved one.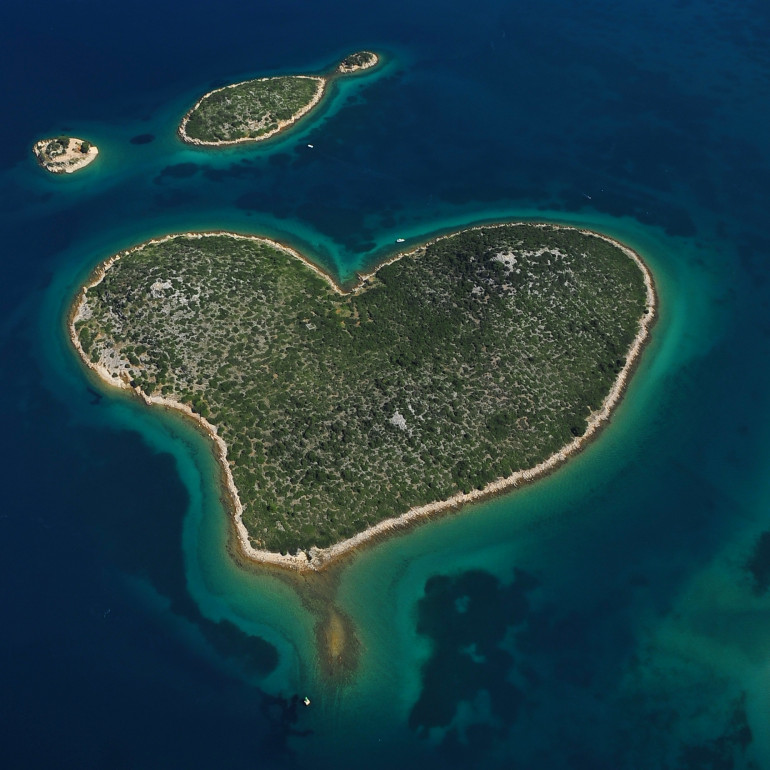 Meet the islands where everyone is welcome, except cars. Enjoy the pristine nature – for example, lie under the shiniest stars!
These islands are very special for many reasons, but what they all have in common is that they offer a different kind of experience – no cars. Become one with nature and get a feeling of how people used to live! One of the most famous ones is the Island of Silba. During the summer they are even bike-free. Luckily, you can see the best attraction by foot – the Toreta - a viewing tower with an external spiral staircase erected by Captain Petar Marinić in the 19th century in memory of his dearly missed love.  Afterwards, take a swim in one of the many hidden bays or rent a boat to reach Silba's Pernastica Valley! Speaking of natural attractions, we must mention the Island of Vrgada. The best description would be "Mediterranean like it used to be". Get into slow motion on the golden sand beaches, pine forests and beautiful fields. Learn what it means to relax the Croatian way!